Classes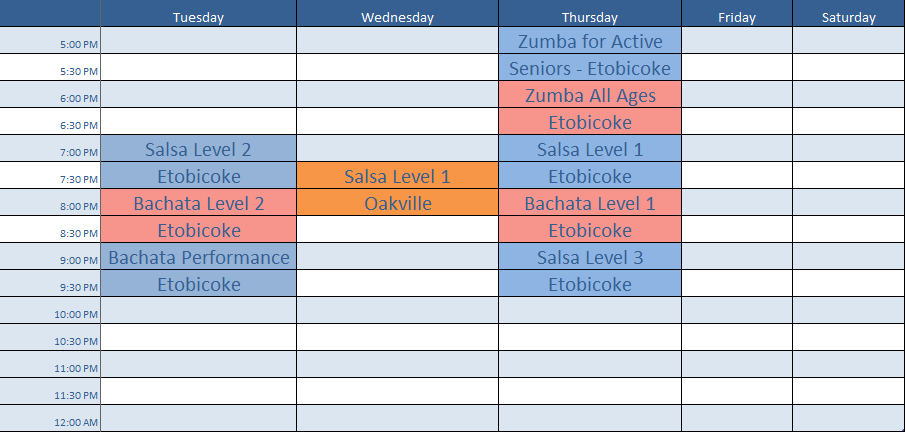 Salsa - $99+HST per 6iX week Course

Level 1 - For absolute beginners!  Salsa is the most popular of all Latin dances! It's fun, energetic and flavourful.  This 6ix week course will provide you with the foundation to start moving and grooving to Salsa music.  Next start date is October 19th - 7pm

Level 1 - Oakville location - Next start date is October 4th - 7:30pm

Level 2 - For those who have completed Salsa Level 1.  This course will build upon your Salsa foundation as you continue to learn new steps and movements.  (An instructor assesment is necessary before registering). Next start date is October 17th - 7pm

Level 3 - You've completed Salsa Level 2, and now you're really serious about getting better.  This course will dive further into dance technique and more complex partnerwork. (An instructor assesment is necessary before registering). Next Start date is October 19th - 9pm

​Ladies Salsa Shines Peformance Class - $150+HST per 8 week Course

What are Salsa shines? Salsa shines mostly consist of Footwork and arm styling without a partner. This is an 8 week Salsa shines performance class choreographed at the Student/Amateur level. Students will have the exciting opportunity to perform this piece at local venues.  The teacher and choreographer will be Leah Duque. ​Next start date is October 19th - 8pm.

Salsa Level 1

Salsa Level 2

Ladies Salsa Shines Performance
Bachata - $99+HST per 6iX week Course

Level 1 - This easy going Dominican dance will have you feeling like you're dancing on a Tropical Island!  The music is typically slower paced than Salsa.  In this course, most students will be able to start dancing after their first lesson.  We told you it's easy going!  Next start date is October 19th - 8pm

Level 2 - For those who have completed Bachata Level 1.  This course will introduce new Bachata concepts related to footwork and partnerwork.  A blend of both Traditional and Urban Bachata best describes the content.  Next start date is October 17th - 8pm

Bachata Student Performance Class - $250+HST per 12 week Course

Please email us before registering.  This is a Student performance class.  Participants will learn a student level choreography throughout the course of 12 weeks and will have the opportunity to perform the routine at a few local venues.  Next start date is January 2018.

Bachata Level 2

Bachata Level 1

Bachata Level 2

Two Can Dine - $170+HST for two people

Just like your favourite fast food join!  This can be used for two people wanting to take one class together.  Register, then send us an email indicating which class you and your partner would like to take. 

info@salsainthe6ix.com  *Not to be used for Zumba Classes

Two Can Dine

Zumba Classes - $36+HST per month

Zumba Gold

Perfect For -Active older adults who are looking for a modified Zumba® class that recreates the original moves you love at a lower-intensity.

How It Works -The design of the class introduces easy-to-follow Zumba® choreography that focuses on balance, range of motion and coordination. Come ready to sweat, and prepare to leave empowered and feeling strong.

Benefits -Class focuses on all elements of fitness: cardiovascular, muscular conditioning, flexibility and balance!

Zumba

Perfect For -Everybody and every body! Each Zumba® class is designed to bring people together to sweat it on.

How It Works -We take the "work" out of workout, by mixing low-intensity and high-intensity moves for an interval-style, calorie-burning dance fitness party. Once the Latin and World rhythms take over, you'll see why Zumba® Fitness classes are often called exercise in disguise. Super effective? Check. Super fun? Check and check.

Benefits - A total workout, combining all elements of fitness – cardio, muscle conditioning, balance and flexibility, boosted energy and a serious dose of awesome each time you leave class.

Zumba Gold (50+)

Zumba All Ages

Refunds and Missed Classes
Unfortunately we don't offer refunds - but you are allowed to transfer a class to someone else.

We all have lives and that is why courses are kept short at 6ix weeks.  The package of classes you purchase expires at the end date of your course.  If you miss a class it may be possible for you to drop-in on one of the other classes as a make up.  In terms of content, our instructor can provide you with a video of what you missed.